2019 | 2018 | 2017 | 2016 | 2015 | 2014 | 2013 | 2012 | 2011 |
Wrapping up ISE 2017, a promising week in AV land
We're looking back at a prosperous week in the Amsterdam Rai where we were for the 2017 edition of Integrated Systems Europe. This growing show proves that AV is a rapidly growing market with great importance for Datavideo. This year over 73000 attendees travelled to Amsterdam to visit this integration and AV show.
DVS-200
We've shown our new streaming server software, DVS-200. This streaming software is able to encode, decode, transcode, stream and deliver the contents to the vast amount of screens there are nowadays. Our hardware encoder, NVS-25, sends the contents of your production to the DVS-200 software running on a server. The server can then store that incoming stream for later use via video-on-demand through a web portal. Also, the server can transcode that stream to various bitrates for use in different places. For instance; a high bitrate stream goes to Youtube Live and to Facebook. A lower bandwidth stream is available for cell phones on the go, whilst a higher bandwidth stream is available for people connected through high speed wifi. DVS-200 can do much more, and we will show you its possibilities in the upcoming period.
SE-1200MU
We've shown various integrations possible with the SE-1200MU. The strength of the unit is that it's compatible with a vast array of integration partners. For this show, we've programmed a Crestron processor to be used with an iPad. The iPad can control the PTC-150 cameras and the switcher. An integration like this shows that Datavideo products can be used in AV installations for all markets. SE-1200MU can be integrated in higher end installations as well. We're presenting an installation within the Cerebrum software of high-end broadcast brand Axon. This installation shows that the full extent of the SE-1200MU can be used within high-end broadcast as well. The streaming multiviewer is a very handy part of this.
Handcarry systems
On the handcarry side we've shown the new HS-1500T. This HDBaseT switcher can be used with our HDBaseT cameras in a very easy fashion. These cameras connect their power, signal and control all by one wire. The CAT6 cables are very easy to obtain and are already present in a lot of buildings, making building up very easy. Depending on the quality of cable you can extend up to 100 meters.
KMU-100
We're also very proud to announce our award winning 4K signal processor KMU-100 is now shipping. KMU-100 is available for a base price of € 4850,- and the hardware control panel can be obtained for € 915,-
Our next show will be the CABSAT in Dubai, where we are on the booth D2-10 of Oasis Enterprises.
RackBuilder-App
Design, develop and configure
the perfect solution for your needs.
Download the
Datavideo AV Solutions Guide
---
Download the
Product Specifications 2018/2019
---
Download the
Product Guide 2018/2019
---
Download the
Virtual Studio Solutions
brochure.
Latest Movie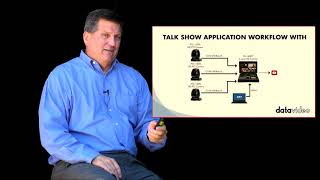 All Videos