2019 | 2018 | 2017 | 2016 | 2015 | 2014 | 2013 | 2012 | 2011 |
Datavideo exhibits at the annual SATIS Expo in Paris
A large wall rises in the Port de la Versailles Expo Center in Paris, France. The Datavideo booth is truly something different from the demonstration van that we've shown in the last couple years. With a large wall with huge graphics and the well-known large table full of products we're showing a booth that our clients know from IBC and ISE. Over the course of three days we've welcomed a record number of visitors (both end-users and students) to our booth.
Replay setup
The HDR-10 and RMC-400 setup is very cost effective and popular to the crowd. A lot of people are touching buttons and fiddling with the T-bar to see how easy it works. This versatile, flexible and impressive looking setup is very affordable, very easy to use and creates stunning results.
KMU-100
The KMU-100 has proven to be very popular in France as well. With the now further improved joystick controller, users don't necessarily need to use a laptop anymore. All functionality can be accessed from the RMC-185 remote, including four different presets that include all settings. By using these presets you can store settings for different venues, or expand the functionality with even more cutout windows!
SE-650
The latest addition to the switcher line-up is very popular by the general public. Especially since this four channel SE-650 doesn't save on functionality. This mixed HDMI/SDI switcher packs two chromakeyers, PIP options, DSK options and a streaming multiviewer! This switcher will become available in Q1 2017, and is highly anticipated.
RackBuilder-App
Design, develop and configure
the perfect solution for your needs.
Download the
Datavideo AV Solutions Guide
---
Download the
Product Specifications 2018/2019
---
Download the
Product Guide 2018/2019
---
Download the
Virtual Studio Solutions
brochure.
Latest Movie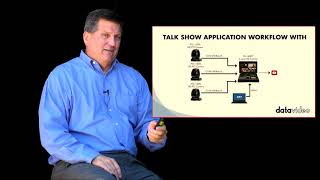 All Videos