2019 | 2018 | 2017 | 2016 | 2015 | 2014 | 2013 | 2012 | 2011 |
Datavideo Mixed Resolution Switcher is Ready to Ship
As internet communication and digital video technology become ubiquitous, video conferencing has thus become one of the most frequently used tools for communication purpose. There are also increasing demands for video streaming and recording at commercial product launch events and seminars. The Datavideo team has developed a brand new switcher product, thereby allowing our users to get the most out of our switcher and at the same time giving them the highest degree of flexibility they want anywhere.
Datavideo's first new product of the year 2019 is the SE-500MU HD 4 Channel Switcher. Looking at its appearance, the SE-500MU may appear like an ordinary video switching device but without any keys on the front. The Datavideo's R&D team, inspired by the simplicity and mobility of the tablet, has designed a mobile app for the SE-500MU switcher that runs on iOS and Android in order to allow our users to operate it at a remote location. The iOS and Android apps can be downloaded for free.
The SE-500MU offers users HDMI input and output interfaces which can be used to connect any off-the-shelf computers and projectors. There are four input channels, one output channel and a quad Multiview, supporting a mix of video resolutions and standards up to 1080P. The output resolution can be set to a fixed resolution and standard to accommodate the screen or projector. The user-friendly mobile app includes functions such as a hard cut, mix effect, wipe effects, fade-in-fade-out, picture-in-picture, split screen and lumakey.
Next to a switcher, the SE-500MU also contains a tablet-operated camera controller. In the camera mode, the app can be used to remotely control up to four Datavideo PTC-150 PTZ cameras.
Instead of describing the SE-500MU as one of Datavideo's entry-level switchers, this switcher is, in fact, a product with simple appearance and ultimate precision. There are no complicated key operations and connection interfaces. The SE-500MU can be used in any corporation, department meetings, seminars and conferences. The app is so user-friendly that the speaker or host can operate the switcher without any assistance.
【Note】Tablet is NOT included.
RackBuilder-App
Design, develop and configure
the perfect solution for your needs.
Download the
Datavideo AV Solutions Guide
---
Download the
Product Specifications 2018/2019
---
Download the
Product Guide 2018/2019
---
Download the
Virtual Studio Solutions
brochure.
Latest Movie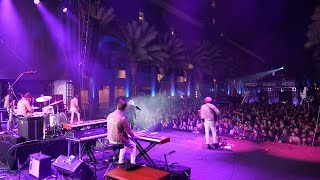 All Videos