News
2017 | 2016 | 2015 | 2014 | 2013 | 2012 | 2011 |
Datavideo Announces KMU-100 4KMulticamera Processor and RMC-185 Controller are Now Shipping
The KMU-100 is a unique easy-to-use 4K multicamera production solution that delivers multiple virtual full HD (up to 1080p) scaled shots with minimal installation cost. Two 4K cameras could be connected to the KMU-100 to provide up to eight 16x9 user-defined outputs. The RMC-185 controller allows you to easily pan and zoom anywhere on the 4K signal to select user defined windows.
RackBuilder-App
Design, develop and configure
the perfect solution for your needs.
Download the
Product Guide 2017
---
Download the
Virtual Studio Solutions
brochure.
---
Download the
Remote Production Solutions
brochure.
Latest Movie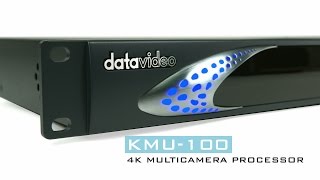 All Videos